Mophie's 2,950mAh wireless charging Juice Pack for the Gala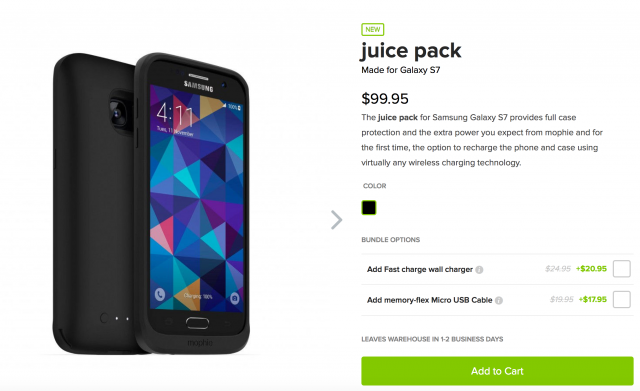 Last month, Mophie unveiled their new Juice Packs tailored-made for the new Galaxy S7 and S7 Edge. The battery cases look to boost battery life by integrating high capacity batteries — 2,950mAh for the regular S7 and 3,300mAh for the S7 Edge — directly into the case. These new Juice Packs, in particular, are interesting in that they also feature wireless charging, so any existing wireless chargers you're already using for the S7/S7 Edge will also power up these cases.
After they were originally up for pre-order (priced at $99.95 for either model) the regular S7 version is available right now directly from Mophie. Although the S7 Edge version is still showing pre-order status, the site shows a shipping time is about 5-7 days, so they should be available soon.
Something to keep in mind is these don't wirelessly charge the device itself (like Samsung's OEM Back Pack). Instead, the bottom portion of the case connect to the device's micro USB port, which is how they keep it juiced up. This gives the Juice Packs a bit of a "chin," but should be more efficient at charging than Samsung's solution. Links provided below.
Buy from Mophie: Galaxy S7 Juice Pack | Galaxy S7 Edge Juice Pack